Keytrends AI content marketing suite v2.2 details
In this release we have a made a big dream come true: a new powerful and redesigned AI content Assistant to be more easy to use thanks to its clearer information and distribution. It also comes with the feature you have been asking since artificial intelligence came to our lives: creating an entire SEO-optimized content by just 1 click. Let's see this:
1. A powerful AI Content Assistant is here 🎉
We have improved our AI Content Assistant with all your comments and…
1️⃣ There is now much more space to drag and drop research data, write and review content. If you close the Copilot, you can work in full screen mode 😎
2️⃣ Research is now done with the new Copilot, where you can select the data to review and drag it onto the sheet. The only thing you have to do is to open the drop-down menu of the research sections and choose the type of data:
〰️ Search suggestions by alphabetical order, preposition, questions and comparisons
〰️ Related questions from Google
〰️ Competitors headings from the the ten best positioned
〰️ SEO entities from Organic, Top Stories and Images
〰️ Internal links: we recommend your relevant contents to link
〰️ EEAT: add bibliographic references
〰️ Auto content: use the +30 IA texts models to write paragraphs and any kind of SEO, Socials and Ads content.
To do this complete study you would need to help yourself with several tools, extensions and a few open Google tabs, so you can imagine how much time you are saving ⌛
Learn how to get the most out of it in our short guide on how to create an SEO briefing with Keytrends:
3️⃣ After the research, you have two options to create the content: you can either set up the briefing and write it yourself, or you can ask the AI to write the whole article itself.
Just hit the "Create Content" button, choose "AI Content" and Keytrends will work its magic. In the meantime, you will see this modal with the evolution of the work:

In conclusion: the new AI Content Assistant speeds up user and competitor research so you can research, write SEO briefings or let the AI do it for you in less than 2 minutes 🔝Learn how to get the most out of it in our short guide on how to write AI-optimised content:
2. A clearer account and project settings screen
Now you can see all your projects, team members and your organisation's plans limits & usage at a glance on a single screen, and you will find very clear buttons to delete projects, to add new members or to upgrade your plan.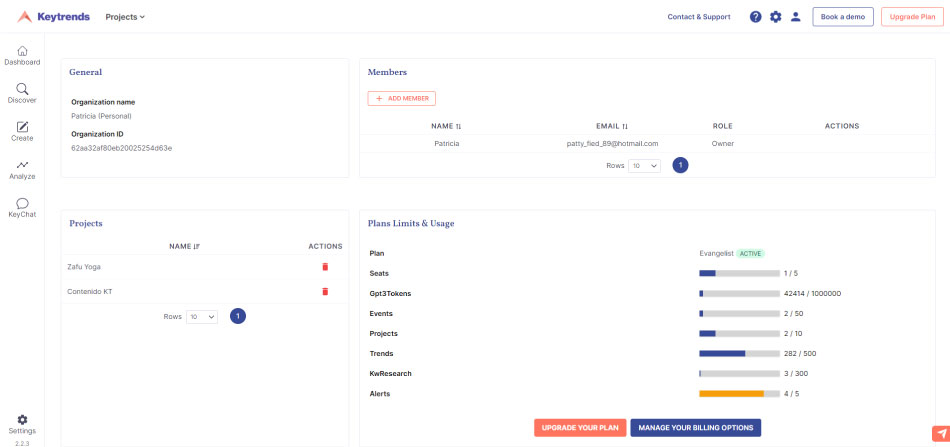 Another improvement we have made for your commodity is that we have also sorted contents by date on the Publishers Panel. Now you will find your saved posts and keywords in descending order from newest to oldest. Read the other minor changes in the general release notes.
This article about the new v2.2 ends here, but let us know any questions you may have in the comments, send us an e-mail or book a 30 minutes demo so we can show you all the new features!