BeSoccer's success: +112k impressions and 3.54k clicks in 3 months covering a trend with Keytrends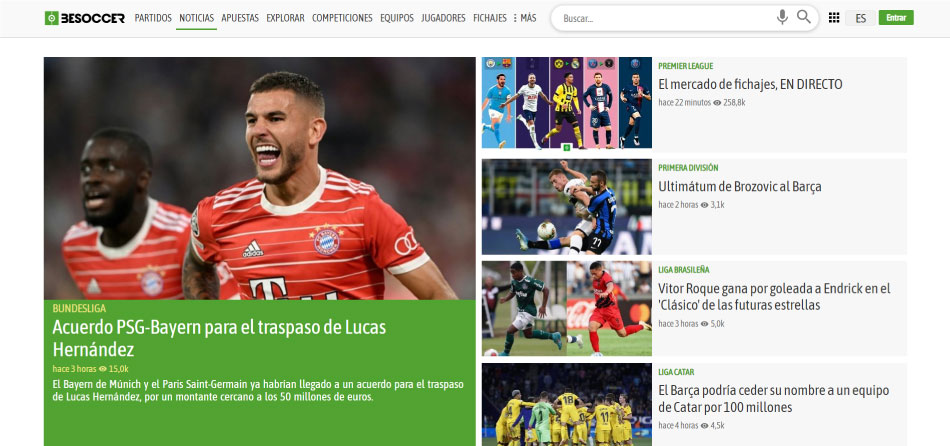 BeSoccer is a web portal specialising in football that brings together all the latest news on the sport including information on matches, results, betting, new signings and much more.
BeSoccer has been actively using Keytrends since January 2023 and in just six months they have started to see improvements in the positioning of their strategy in real time based on trends. The key has been the combination of detecting trends in time and without manual processes, with the agility that the tool has allowed them to control the content already created.
In addition, Keytrends has allowed them to optimise the site for SEO in its more technical aspect, and add more positive results:

112k impressions and 3.5k clicks
covering a trend

Up to 6h savings on manual trend spotting with Trends

75% faster content processing
through automation
Customer need and Keytrends' solution
BeSoccer's need
In a niche where trends and developments appear daily, BeSoccer needed to automate its content process to gain agility in:
To be able to see new growth trends at a glance without spending hours on manual research work.
Controlling the content already created due to the high volume of news that can be generated.
Check indexing in just seconds and much more clearly than with other external tools
Keytrends Solutions
Detect trends, check created content and ensure indexing in one tool with:
The real-time trending dashboard for news
URL cannibalisation function and data obtained from Google Search Console account to see all the pages created
Indexing check function of each URL in the sitemap to avoid errors that prevent organic, News and Discover ranking.
Use of Keytrends in BeSoccer content strategy
Most used features
These were the key features of Keytrends for BeSoccer:
Automatic trend finder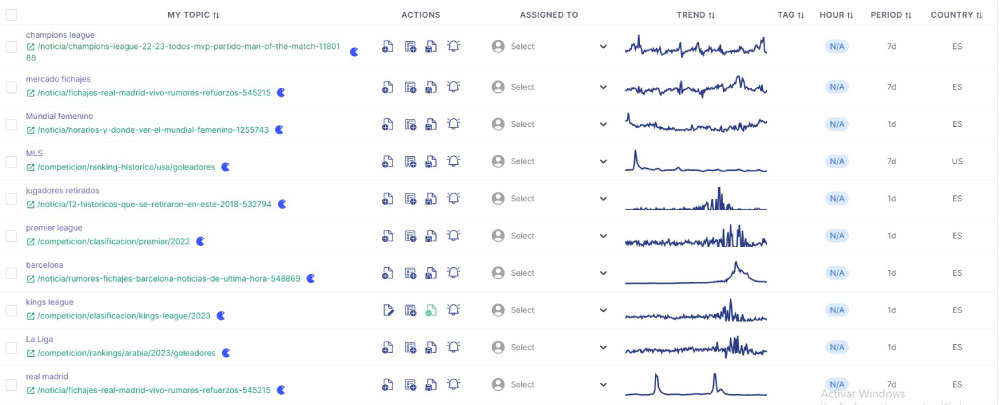 Detection of rising queries related to the sector automatically, just by entering the topics
Monitoring the evolution of the trend and related queries to create new content
They have been able to cover all the topics of interest of the season and be continuously present in the user's mind
Display of URLs created under keywords in all listings
Query by keyword of all URLs covering it to check positioning and monitor cannibalisation
Positioning and possible cannibalisation analysis

Detecting unindexed pages with the Index Status Checker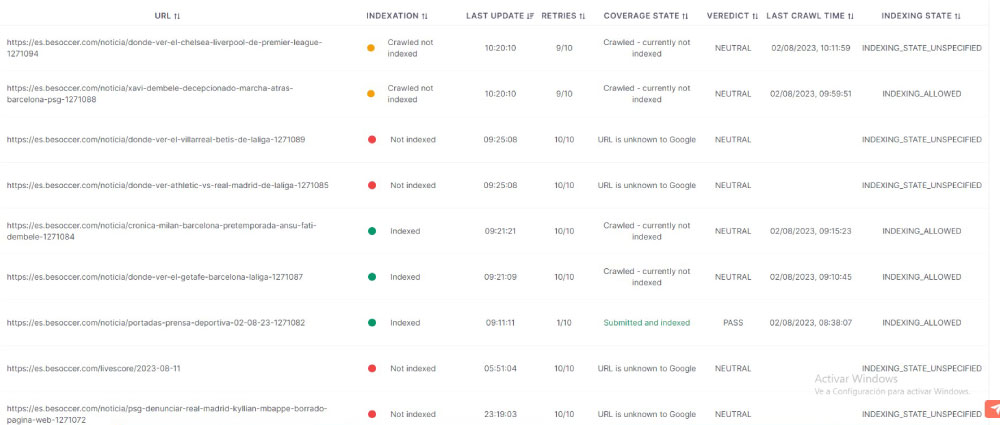 All sitemap URLs listed and one click away to see their last crawl time, indexing status and more
On a daily basis we have been able to detect several contents that were not indexed and were not ranking
In addition, they have used two other great features of Keytrends that have helped them to work out an evergreen strategy for a partner:

⚡

Evergreen opportunities panel
Discovery of long-term growing topics
that refer to recurring user queries and searches
to write informative articles

✍️

AI content Assistant
Using Copilot to generate the brief for the most evergreen SEO
content, including headings and associated keywords
in order to optimise the text
What has BeSoccer achieved with each function?
1. 112k impressions and 3.54k clicks in 3 months, covering a single trend
The 100% automatic detection of trends has been the key to BeSoccer's success, both in terms of reducing work time and achieving greater visibility in search engines, also in much less time. This was the case with the "Kings league" trend:
✅ Saving up to 6 hours of manual work with Google Trends to detect possible topics and keywords to cover. The choice involved browsing (in just a few minutes) the list of trends in real time, with hardly any filtering and ordered from highest to lowest growth:

✅ Check all related keywords and queries by clicking on each trend to plan all possible content around the topic: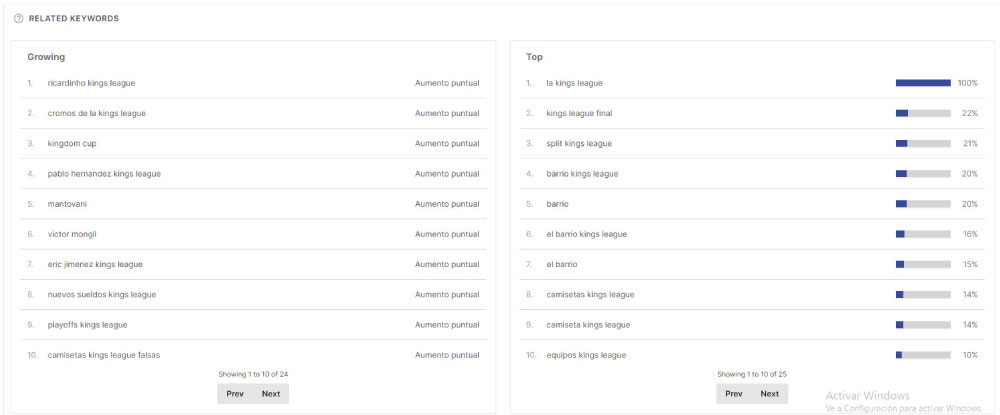 ✅ Instant visibility when publishing and sustained over time, with several peaks that keep pace with user interest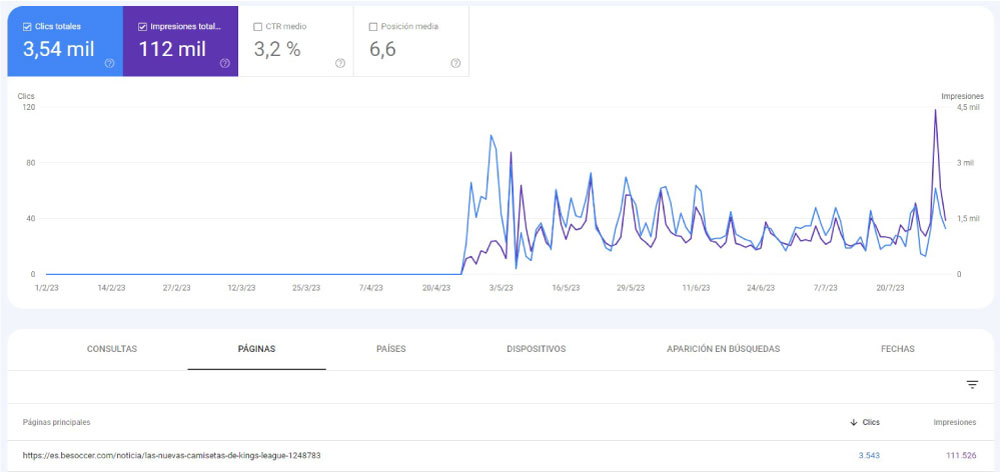 2. Cover trends without falling into duplicate content, thanks to the control of the URLs created
By being able to insert their sitemap and connect the tool to Google Search Console, BeSoccer has been able to access the URLs created for each keyword covered and check in their own listings of new trends if they already had content created. All without having to enter their CMS, the Google tool or the content calendar.
3. Detect unindexed content at a glance to fix errors and avoid losing visibility
In a realtime content strategy, it is essential not only to detect the trend in time, create the content and publish it, but also that it is indexed in Google in time. To check this, the Index Checker Status has been essential, which, as shown in the image above, indicates the status of each page and gives a very visual warning of those that have not been indexed.
Conclusion: BeSoccer results with Keytrends
The key to BeSoccer's improved content processing and positioning results has been the automation of its trend-based strategy tasks:
1️⃣ Thanks to Keytrends they have detected faster growing queries, saving up to 6 hours of manual work in Google Trends to analyse the best daily topics.
2️⃣ They have gained 75% agility in the entire content generation process, including checking the content already created, published and indexed in search engines. All of this has translated into being able to publish and rank earlier.
3️⃣ They have improved the overall visibility of their project in less than 1 yea and since they started to use Keytrends in 2023: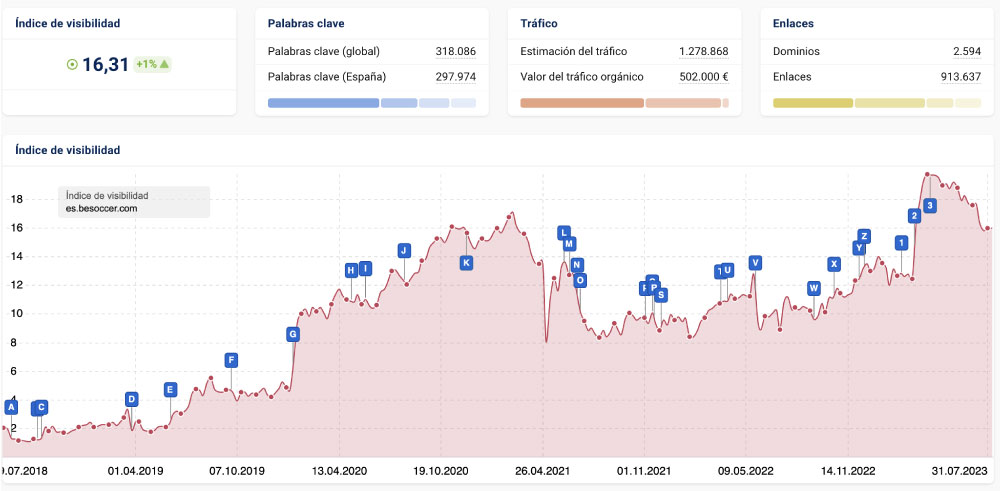 We help you boost your content strategy results
If you also want to get results with your content, start trying Keytrends in its free version or, even better, let's see together how it can help you in your strategy in a 30 minutes demo.