FARMATOP: +600% ORGANIC VISIBILITY IN 3 MONTHS WITH THE HELP OF KEYTRENDS AND OTHER PARTNERS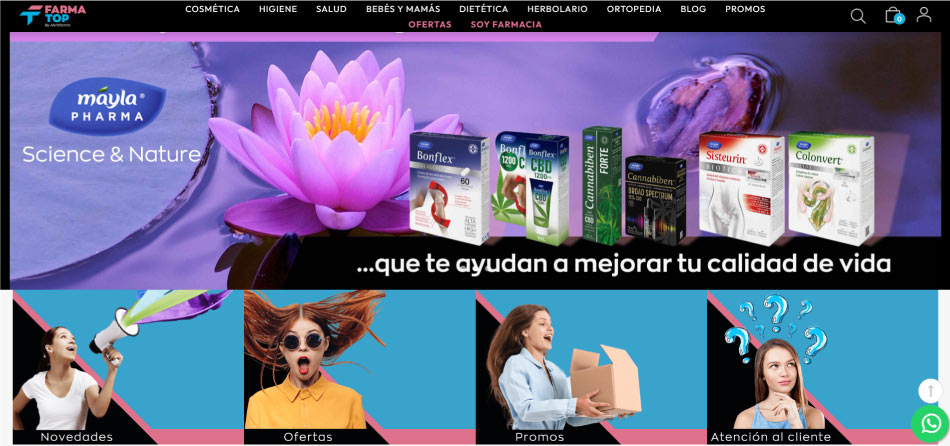 FarmaTop is an online shop for pharmacy and parapharmacy products. It has a wide range of products for internal and external care. They transfer their expertise from the physical pharmacy to the online service, characterised by close advice and very competitive prices.
Customer need and Keytrends' solution
FarmaTop's need
In a highly competitive sector, FarmaTop needed to increase its visibility in order to achieve:
Increase traffic to the online shop
Improve conversion rates
Work on their brand awareness and authority
Keytrends' solution
Differentiate yourself through SEO-optimised content that covers the latest market trends:
On category and product pages
In blog articles
In home page highlights
The result
Working a multichannel content strategy that has included the implementation of actions in Social Media, SEM and SEO with Keytrends, the agency VIVA! Conversion and other tools, FarmaTop has achieved:
✔️ Detecting trends in the health sector earlier
✔️ Aligning the brand to current issues in its industry
✔️ Optimise seasonal product selection
✔️ Increase visits by 300% thanks to positioned content
✔️ Generating brand image and building brand authority
✔️ Tripling the number of orders in 6 months
Using Keytrends in FarmaTop's SEO content strategy
FarmaTop has used Keytrends to discover the latest topics and industry trends to cover in its multichannel content, as well as being able to research user search intent much more quickly and agilely for the creation of SEO briefings and optimised ecommerce content.
To do so, it has made use of 2 of the functions of Keytrends:
Automatic trend finder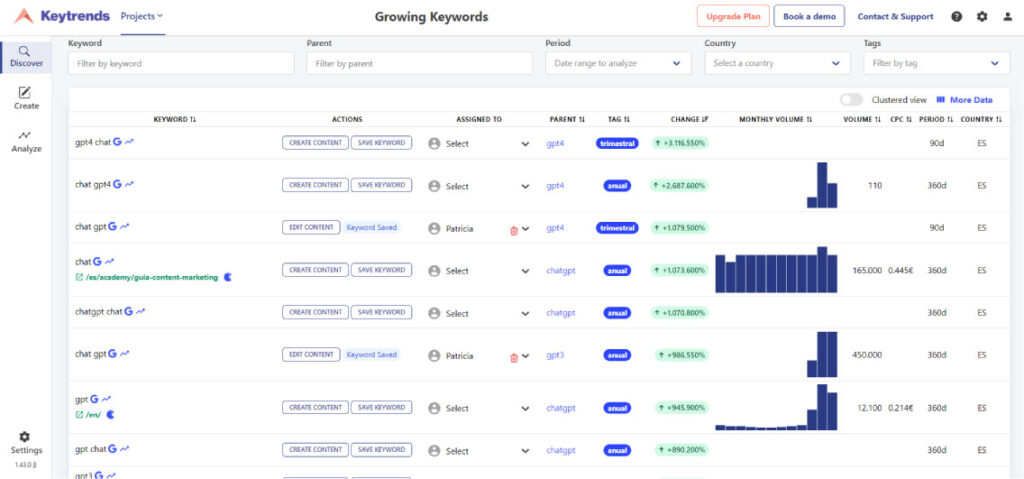 Creation of blog articles around trends
Enriching SEM campaigns with growing keywords
Prioritisation of the products highlighted in the homepage based on seasonal trends in the sector.
User and competitor research for generating SEO briefings
Optimisation of product and category descriptions with related keywords and entities
Enriching product sheets with AI-generated text
AI Content Assistant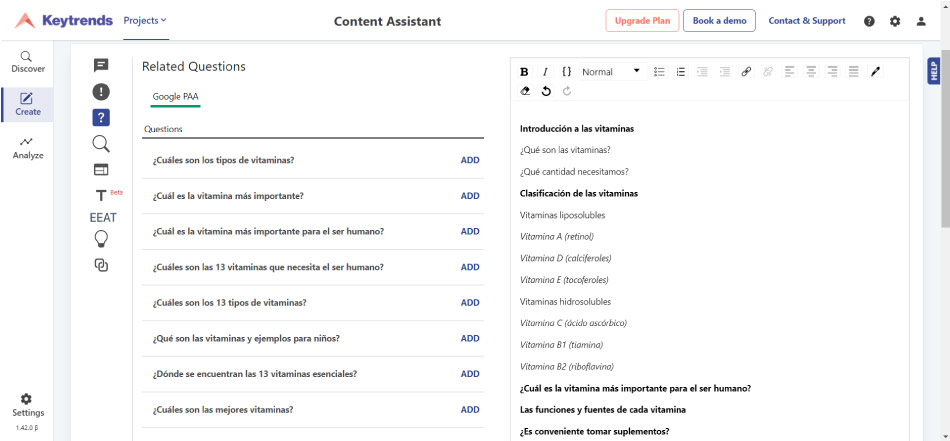 Automatic trend finder for the detection of growing topics
FarmaTop has been able to detect growing themes and identify much better the seasonality of certain products and user queries and transfer this information to:
The creation of blog articles that resolve new and recurring questions and concerns of users at certain times of the year.
The detection of products with the highest seasonal demand in order to prioritise them both in the optimisation of their pages and in their appearance in the carousels of featured products on the home page.
The selection of products to promote in paid ads on Google Shopping.
Thanks to detecting the most demanded products and trends and growing queries in the sector, FormaTop has improved its positions in the SERPs ranking for its keywords and has positioned for new ones: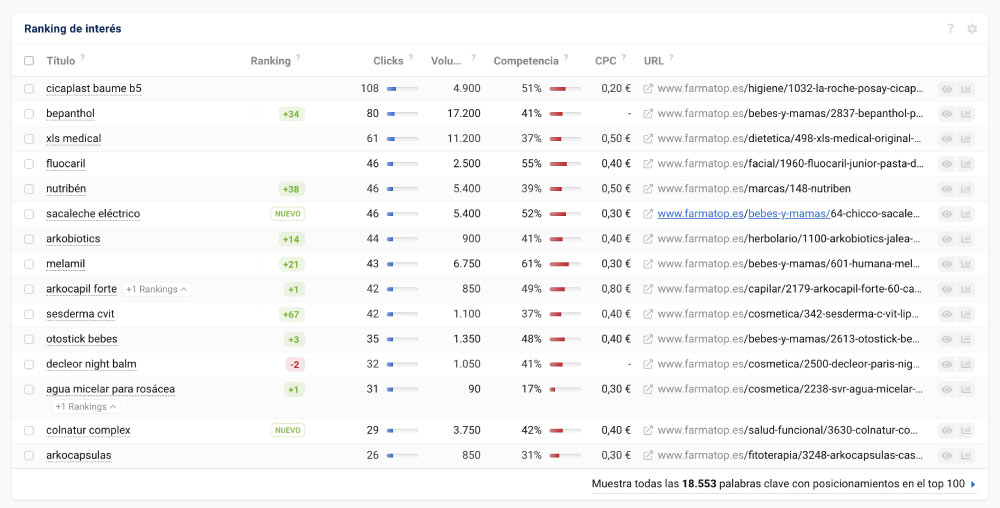 Content assistant with AI for research, briefing and copywriting
FarmaTop researched search intent and competitor content using Keytrends' AI-powered Content Assistant to generate SEO article briefs around selected trending topics.
The Content Assistant has allowed them to streamline SEO research, create content much faster and increase the speed and frequency of publication, being a key part of the overall strategy and in synergy with the work of the partner agency.
The functions of the assistant that they have used the most have been:
Competitors' tables of contents: by observing the first 10 competitors, they were able to extract the ideal heading structure for the SEO briefing and adapt it.
Related questions and suggested Google searches to include them and enrich content
Queries of interest by letter and preposition
SEO entities to work on content semantics
Automatic writing of product and category descriptions to enrich with research data the contents previously written by a copywriter.
The use of the Content Assistant for the generation of its ecommerce content, together with the detection of trends and the use of the entities & keyword research tool, has resulted in an exponential increase in its visibility index.
And the most important thing: thanks to the useful and quality content created around user searches and trends, Farmatop has been strengthened by the latest updates of Google's algorithm.

Conclusion: this is how Keytrends has helped FarmaTop's content strategy
The success of FarmaTop's content strategy has been multifactorial: a greater investment in content has allowed them to rely on tools such as Keytrends and partners such as the agency VIVA! Conversion to optimise their actions and achieve faster results.
Keytrends has undoubtedly been a key element in automating and speeding up the implementation of the strategy in terms of SEO research and content generation, because it has made it possible to detect and write much more quickly about trending topics and user queries.
Finally, the correct SEO optimisation of the ecommerce content has been an important factor in increasing the visibility of the project. This is how in just 3 months its visibility graph has gone up and, for sure, it will continue to do so for the rest of the year.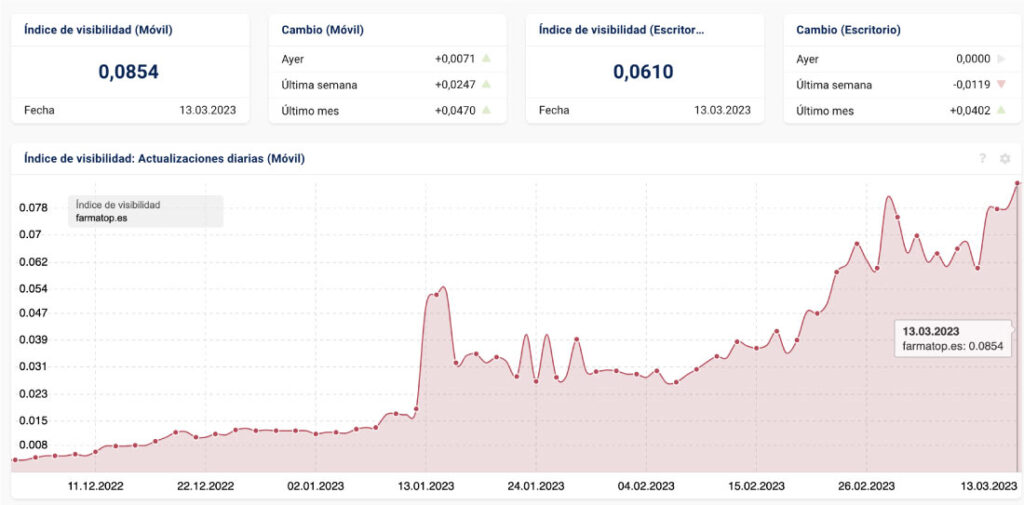 We help you boost your content strategy results
If you also want to get results with your content, start trying Keytrends in its free version or, even better, let's see together how it can help you in your strategy in a 30 minutes demo.