How PcComponentes increased its visibility thanks to content marketing and improved its SEO research productivity thanks to Keytrends
Generating quality digital content is key for online businesses, which face an increasingly high competition in the e-commerce landscape.
The initial issue is that there is a large amount of content created from the type of pages known as niche pages. They position with highly demanded terms but are written without the expertise of the big brands, using affliliation and programmes of dubious reputation.
Businesses need to focus on analysing the user's needs, working on all the steps of the funnel (TOFU, MOFU, BOFU) to increase trust through content that shows brands expertise and adds value to purchases.
To do so, they can make use of KeyTrends and its process of analysing needs, competition and entities before generating assisted content, thus providing brands with the necessary information to create useful and relevant content.
1. Who is who?

Online sales company for technology products and marketplace for other brands. They have 3 physical shops and warehouses of more than 41500m2.

Spanish SEO and Content Marketing tool that allows you to research and detect trends to generate SEO content strategies. It covers research, writing and measurement
2. Client need and KeyTrends' solution
NEED
In a sector with a high level of competition, PcComponentes aimed to increase its online visibility in order to:
Increase the flow of visitors to the online shop and blog.
Better convert these visits and increase conversion rate
To position itself in the minds of users as a leading portal in the technology sector.
SOLUTION
The direction of work to follow is that of SEO-optimised content that helps to position the online shop and the blog and to work on the brand image:
With content for the categories and product cards of the online shop that includes the main keywords, entities and queries that are identified with KeyTrends.
With content for the brand's blog, in which articles are developed with an SEO focus around user queries and the latest trends.
3. The result
Using KeyTrends, tech ecommerce has been able to:
✓ Spotting trends in the tech sector sooner
✓ Aligning its brand to current industry issues
✓ Ranking the blog in search engines
✓ Working on the brand authority and online reputation
✓ Positioning as a leader in the minds of users
✓ Increase conversion rate
4. Use of Keytrends for PcComponentes' content strategy
PcComponentes have used 3 main features of Keytrends:
Trend finder: detection of growing topics and keywords
Content assistant: research and writing
Internal linking and cannibalisation: content linking and review of possible cannibalisation between online shop categories and blog articles.
Trend finder for topic detection
PcComponentes have been able to detect very relevant topics that were not being addressed in its content strategy by applying the filter of the last 30 days in Spain.
Some of the trends found were: Xiaomi mini pc (Computers), Kitchen gadgets (Electrohogar), Electric scooters for children (Mobility), Orange juicers (PAE).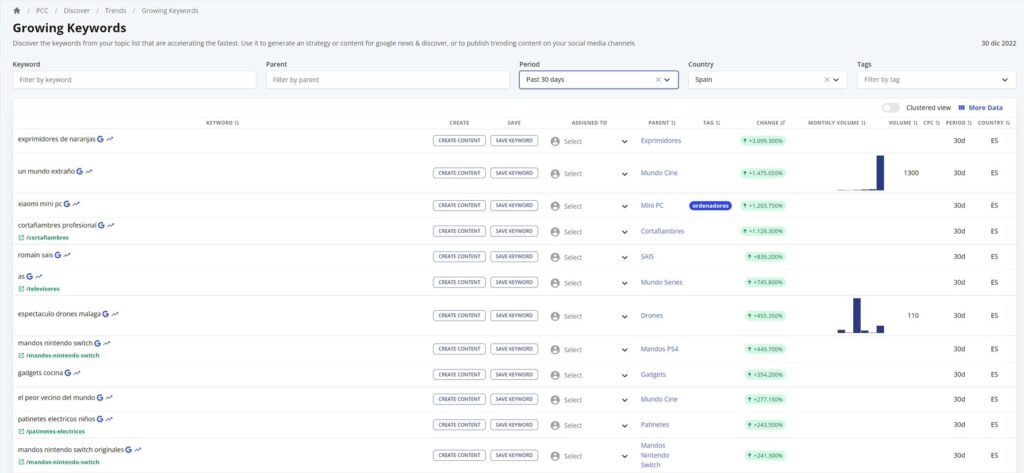 Content assistant for research and writing
PcComponents has investigated the search intent and drafted it with the Content assistant and a trained generative AI model.

This has allowed them to extract new ideas for daily content and write much faster. The elements of the assistant they have used the most have been:
Competitors' tables of contents: by looking at the first 10 competitors, they have been able to extract the ideal heading structure for the contents.
Related questions and suggested Google searches to include them and enrich content
Queries of interest by letter and preposition
SEO entities to work on content semantics
Automatic writing of product descriptions, categories and blogs with the GTP-3 assistant and a trained template.
Control of content cannibalisation
PcComponentes have been able to have a better control of the contents and their cannibalisation thanks to being able to visualise the contents created for the same keyword in Keytrends:

In this way they have avoided duplicate content, especially between the product categories of the shop and the blog articles.
5. Conclusion
Thanks to Keytrends PcComponentes have been able to improve its content strategy and boost the positioning of the site:
✓ Analysing user search intent
✓ Incorporating entities to work on semantics
✓ Detecting the top keywords in the sector
✓ Accelerating the SEO research process
✓ Facilitating competition research
The result has been content that has increased its rankings in search engines, as shown in the graph of the content created for one of the trends discovered with Keytrends: