HACK A BOSS: from 0 to 6000 impressions on new keywords and 16% more users with Keytrends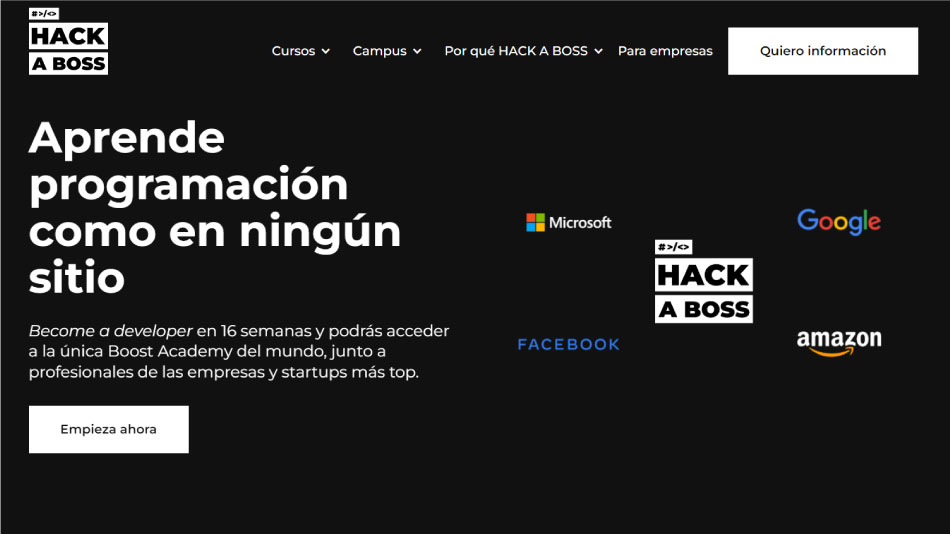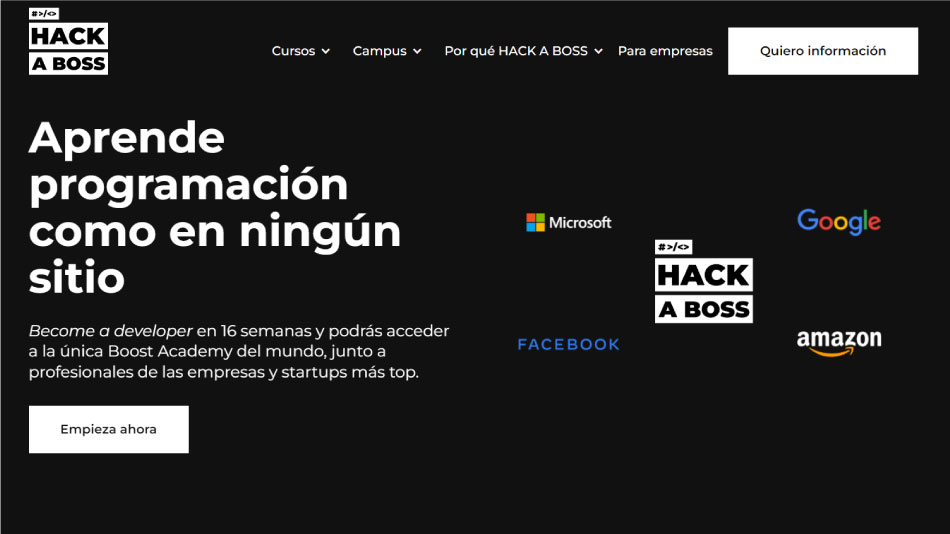 HACK A BOSS is a company specialising in technology training, specifically in Web Programming, Artificial Intelligencia and Data Science bootcamps. They help students to train with a practical Learning by doing approach, and make it easier for companies to find the best talent.
HACK A BOSS has been actively using Keytrends since March 2023 and in just two months they have started to see improvements in the performance of their content, especially in their informative blog section:

+6,000 impressions on new keywords

+175% content interaction
Customer need and Keytrends' solution
What HACK A BOSS needed
To get its strategic SEO content strategy off the ground in the technology education niche, HACK A BOSS needs revolved around:
Updating the blog in response to the most frequent searches of the target audience.
Optimisation of URLs, both blog articles and other landings.
Detecting and correcting duplicate content
Internal linking work with related content
Keytrends' solutions
Research, write, proof content created and link publications in one tool with:
The keyword, entity, trend and query tool for keyword research and content optimisation
The AI Content Assistant for the creation of SEO briefings and the linking of related articles
AI as an aid for writing blog articles
The fast checking of created URLs and possible cannibalisations
The result
✔️ 16% more active users in 60 days
✔️ +175% interaction with content
✔️ Centralise research and writing in 1 single tool
✔️ +6h saving of work per content
✔️ Facilitating the organisation and internal work of the team
✔️ Publish and optimise 75% more content
Using Keytrends in HACK A BOSS content strategy
To detect topics, find keywords to optimise their content, write faster and work on the topical authority of the website through internal linking, these were the key functions of Keytrends for HACK A BOSS:
Used features
Entity and keyword research tool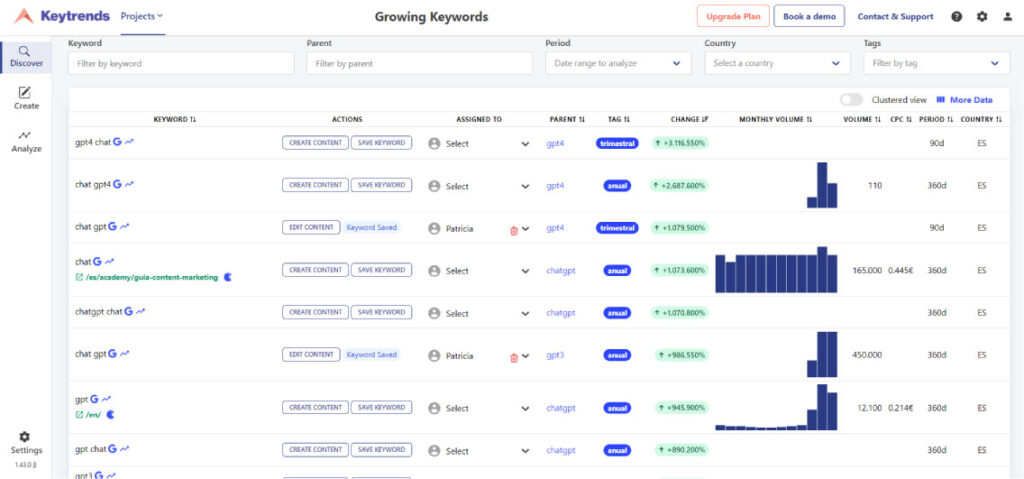 Find keywords to optimise web content, including the URLs and texts of each page.
Find evergreen topics to cover in the blog
Detect other user searches and new queries (trends)
Research of competitors and user questions to generate define the SEO briefing headlines
Selection of complementary keywords to be included in the content
Help in writing with AI
Content Assistant with AI

In addition, two indispensable tools have been used to optimise the URL structure of the content:

🖇️

Internal linking tool
Checking content related to a publication
to link them

🌐

Created URLs and cannibalisation tool
Checking whether a URL has already been created
for a keyword or topic
What has HACK A BOSS achieved with each function?
1. Detect topics, keywords and user queries with 1 single tool, the entites & keyword research tool
HACK A BOSS has used the entities & keyword research tool to:
✅ Centralise the keyword research task in 1 tool to streamline workflow and save up to 4 hours per research.
✅ Work on the thematic authority in the page's niche by covering other related topics and queries for each new post, generating a comprehensive and 100% user-centric content strategy.
✅ To be able to detect uncompetitive trends from the tool itself and promote a parallel fresh content strategy.
2. Engage 16% more users by creating optimised content with AI Content Assistant
HACK A BOSS has investigated the search intent with the AI Content Assistant to generate the outlines of each content, include the necessary keywords and find other related topics and questions to address in the publication itself or in other publications that complete the strategy.
This has resulted in content that is 100% optimised for the user's search intentions, which they find on the website of HACK A BOSS the answers to their queries. The effect of this has been an increase in active users on the site:
Before Keytrends
18.915 active users
With Keytrends, in 60 días
21.932 active users
This function has made the difference both in the quality of the structuring and optimisation of the content and in the distribution of their working time, because they have been able to:
Researching user queries and questions (search intent) for each topic in one tool, without googling or paying for other resources. This, and being able to drag the data into the sheet in one click has saved up to 6 hours of work depending on the complexity and length of the content.
Check the contents of the best positioned competitors to extract the ideal heading structure for the SEO briefing and adapt it.
Obtain title ideas, draft sentences and whole paragraphs with AI to complement the copywriting and proofreading work of the editors.

Conclusion: the results of HACK A BOSS with Keytrends
Incorporating Keytrends as a tool in its workflow, HACK A BOSS has gained in agility in the content generation process and in the improvement of traffic and positioning indicators:
✔️ 16% more active users in 60 days
✔️ +175% interaction with content
✔️ Centralise research and writing in 1 single tool
✔️ +6h saving of work per content
✔️ Facilitating the organisation and internal work of the team
✔️ Publish and optimise 75% more content
👉 The key to these results has been the automation of tasks in a single tool. This has allowed the specialist team to work on more and better content, because Keytrends has been able to:
1️⃣ Find new content ideas but also check everything that has already been created to avoid duplicate content, helping in the optimisation of the website.
2️⃣ Create articles and web pages with a 100% SEO optimised structure covering all user queries and, thanks to AI, write much faster.
3️⃣ Work on internal linking to favour topical authority in the project's niche, and optimise all URLs to improve positioning.
This process has paid off in just 60 days, with almost 16% more active users and improved organic metrics in Google Search Console:
.

A highlight is a 7% more impressions in just one month, from 463K in April to 492K in May 2023, according to the Search Console Insights report. This was accompanied by 2% more clicks in those 30 days.
Here is an example of some of the queries the project ranks for; for example, the keyword "CSS3" had an increase of 321 clicks compared to last quarter.

A sign that the HACK A BOSS content strategy is picking up pace are the impressions on new queries, such as "master": from 0 to 6000!

We help you boost your content strategy results
If you also want to get results with your content, start trying Keytrends in its free version or, even better, let's see together how it can help you in your strategy in a 30 minutes demo.