Keytrends AI content marketing suite v2.6 details
Keytrends is going a step further in the work of content strategies and now finally also helps you to improve the articles you have published on your website. This is the big new feature of this version, which comes with improvements in usability, some new designs and a help section with tour included to clarify all your doubts (especially if you have just arrived!). Let's start with the details of what this v2.6 has brought:
1. New Optimizer to optimise the contents of any URL 🆕
As you know, we believe that improving the content we already have has to be part of the content strategy, and that's why at Keytrends you have:
A Score that weights the potential of your pages based on the positioning data and gives them a score so that you know where to start optimising what you already have.
A cannibalisation check function that in one click shows you all URLs that share a keyword.
Your traffic data per article is available in your account manager, and the SEO KPIs of all content in your My Search Console Data.
In addition to all this, there is now the content optimisation function, "Optimizer". It is currently available in all keyword listings, both real and non-real time, and will soon be available from My Search Console Data.
🎯 Its objective: once you have detected the content to improve, you can bring it to Keytrends and improve it with the help of the Content Wizard and the Copilot. Yes: we will extract the text and links from the article you tell us, respecting its structure of headings and paragraphs, so that you can edit it on our platform.
How to do it👇
1️⃣ Go to your Top & Growing keywords in real or non-real time that Keytrends detects for your topics.
2️⃣ If any topic keyword appears in any of your content, you will see its URL.
3️⃣ Click on the Optimise content icon: you will see the list of URLs that share a keyword, if there is more than one, so you can check the ranking data and decide if there is a danger of cannibalisation.
4️⃣ Choose the one you want to optimise and… Magic! We bring all your published text into the AI Content Assistant so you can further investigate search intent with the Copilot.
Your research will be quick and easy, because we tell you what data you are missing – for example, entites – so you can add it all at the click of a button ✔ You can also use the Optimizer to optimise any URL, not just those detected for a keyword. Just enter it in the available space and you're ready to go. Watch it in action in this video 📹
➡️ Remember: with Co-Pilot you can research 🔍 Google PAAs, suggested searches, related entities and keywords, competitor headers and add EEAT sources. Need to expand the text? Use the text prompts or the Keychat.
2. New project onboarding with tour and sample AI content
Our onboarding is not only useful for setting up your Keytrends account or a new project, but we can also give you a first content strategy. How? We detect the topics of your project and recommend the keywords on which to start creating content.
Now, we have 3 news:
We will start a tour through the most important parts of your project dashboard and the tool's interface, so you know how to move around and what you can do in each place. If you already know the platform you will be able to deactivate it.
Help tab: the tour is available, along with a FAQ and a contact link to Support, under "Help" (in the top right menu).
Sample AI content: you will already find content generated by our AI on one of the topics we recommend you to discuss.
This way, you will get familiar with your new project and tool much faster! In this screenshot you can see these 3 news on the onboarding process: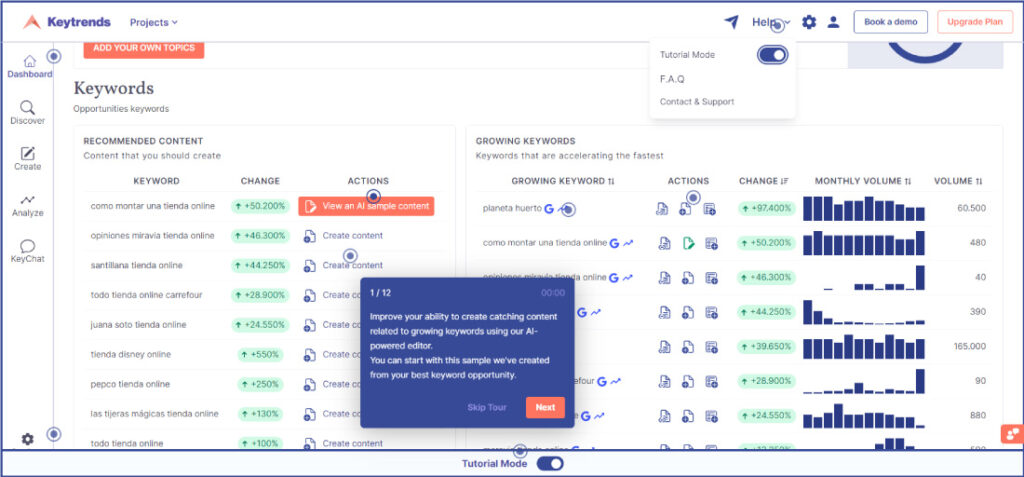 3. New Recommended content section on your dashboard
We would like to take advantage of the above screenshot to draw your attention to another new feature: a section of recommended content to work on your project. That is, the keywords that are growing the most out of all the possibilities you will find in your keyword lists. We have made a selection of 10 according to their growth, and you can go to create the content by clicking on the "Create content" button. As always, we try to make it easy for you!
4. Some new redesigns and improved usability
In general, you will see small design changes in the platform little by little. For example: the projects screen has changed and is now cleaner; the search bar and the button to add a new project are much more differentiated so you won't have trouble finding them. The onboarding layouts are also different now and at the top of your dashboard you will see this new My Topics part:

As you can see, the total number of those you have added and those you have left are on one side, and the button to add new topics on the other.
In addition to all these new features, remember that we have documented small improvements and bug fixes in the release notes. And now this article about the new v2.6 ends here, but let us know any questions you may have in the comments, send us an email or book a 30-minute demo so we can show you all the new features!