How to use Keychat or the Keytrends ChatGPT to create a content strategy and write each post
In this article we are going to guide you on how to use Keychat, our particular ChatGPT, to get any kind of data, information or full text. Integrating Keychat into your workflow will help you automate pre-strategy research, strategy creation, copywriting and more.
+7h
Saved on research: ask for any data
x10
Boost your writing speed
75%
Increased frequency of publication
How to create a content strategy and write its blog posts in 3 steps
Use case 📝

A new distance learning project is starting from scratch in the creation of their website, so they have to study what content strategy to implement. They know that doing keyword research, selecting topics and writing articles manually will take a lot of time, so they plan to automate the whole process with Keytrends and a large part with Keychat.
Ask the Keychat for the general themes or clusters of your content strategy
You can access the Keychat from any screen in the tool because it will dock next to the function you are using. Once inside, you can use commands or prompts that you know, use your own words or click on the prompts suggested on the front page of the chat.
In this case, choose "Keyword cluster generator", which is the first step that the new training project has to do to get the general themes of the strategy. It would even serve to define the information architecture. The seed keyword you enter is "distance learning".
The prompt will be added to the text box and you will only have to fill in the indications in square brackets (no need to delete them). In the example we have indicated "English". Once you click "Create", you will have your list of topics in a few seconds. Copy the answer and paste it into the document you are going to work with.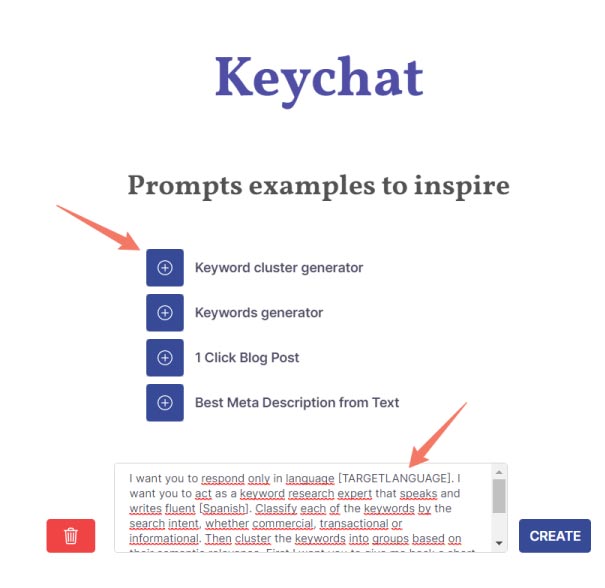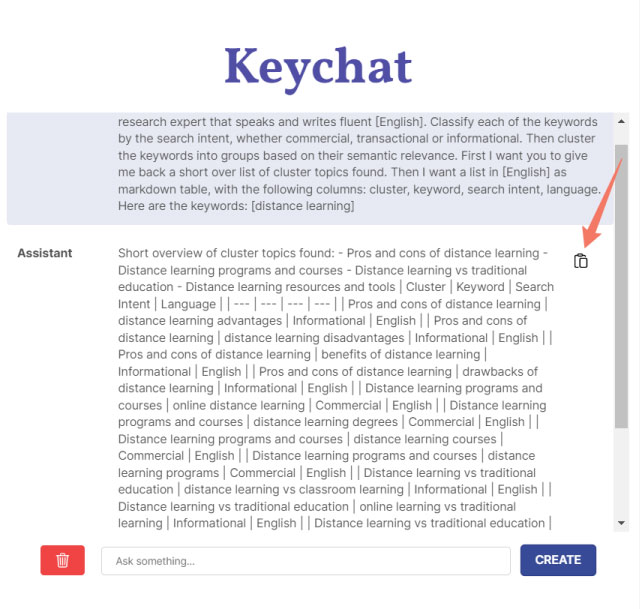 Step 2. Get a list of keywords for each topic and complete your strategy.
Once you have the general topics that the project needs, you also need the subtopics. With these, you can decide whether to create a single broad content (such as a guide) or to write several articles, one for each keyword.
To do this, go back to the Keychat start screen and select the "Keywords generator" prompt. In this case, just enter the general keyword and Keychat will extract a list of 25 keywords.
The new educational project repeats this for each of the general topics obtained in the previous prompt. This is an example for the keyword "online courses":
💡KEYTIP: complete your research with a complete keyword research in 1 minute with the results divided into clusters. In addition, you will have volume data and other user queries. Also look for SEO entities associated with your project to work on semantic SEO.
Step 3. Write an optimised text for each keyword in 1 click
Either to publish it on the blog, or to get a pre-written and SEO-optimised text that you can use in the categories of the website, the "1 click blog post" prompt does it automatically. It includes headers, paragraphs and keywords.
As this task is more complex, it can take up to 1 minute, but the result is worth it:
💡Extra Prompt: if you only need to write meta tags, use the prompt "Best metadescription from text". By changing the number of characters you can also use it for the title.
Have you run out of tokens to use Keychat?
Depending on your plan you can make a maximum number of requests to our chat. If you want to get more out of it and a higher plan gives you more than you will use, tell us how many extra tokens you need and you will only pay for this.
To do this go to Upgrade and click on Pay as you go or send us an email to hello@keytrends.ai 📨

You can also access the Upgrade directly from here ⬇️
Frequently Asked Questions about Keychat
If your question does not appear, you can leave it in comments so that we can solve it for you and include it in this list (you can also write to us). Thank you!
➖ When I click on create, nothing appears on the screen, why?
If when you send your order Keychat does not process it and nothing appears on the screen, it means that you have used up all your tokens. You will only be able to continue asking for more if you buy more.
➖ I get an error 500 when I send my prompt, what does this mean?
To build the Keychat I use the ChatGPT API and sometimes it fails to answer the questions within a certain time and when the time expires it gives an error. This doesn't happen very often and is solved by sending the command again (you may need a couple of tries, though).
➖ After processing my question for a few seconds, Keychat returns the message "Failed to Fetch". What is it?
Same as above: the API is saturated and is not able to provide information. As above, it is a temporary error and not attributable to our tool.
➖ Does Keychat return answers in list or table format, or just text? Does it create images?
Yes, for responses where it is more optimal to display in lists or tables, Keychat will use those formats. As for images, no, at the moment it is not able to create them.
➖ Keychat takes a long time to reply to me… is this normal?
Our chat is usually very fast, but we have used the ChatGPT API to build it. When it crashes or is slower than normal, it affects us, but it is temporary and will be fixed in a few hours.
Keep learning about Keytrends