How to find content opportunities with Trends Opportunities
For a content strategy to increase traffic to your project, you must first find content opportunities relevant to your topic. With the Trends Opportunities panel you can do this automatically in just 3 steps, and benefit from these and other advantages:
-6
Hours of manual work with Google Trends
+90%
Increased frequency of publication
x3
More visibility in SERPs
How to spot content opportunities in 3 steps
Use case 📝

A furniture and decoration e-commerce wants to monitor the demand for outdoor products and the specific queries that users have in order to solve them in their content strategy. They want to be experts in that product category, attract visitors and sell more.
Step 1. Add the keywords or general topics in your dashboard.
To start discovering traffic opportunities, enter the general keywords for the type of product and the time period to be monitored.
In this case, the e-commerce selects the last year to get a broader view of the searches occurring on Google (Web Search) and to check seasonality. As the season approaches, it could set up another search for the last 90 or 30 days.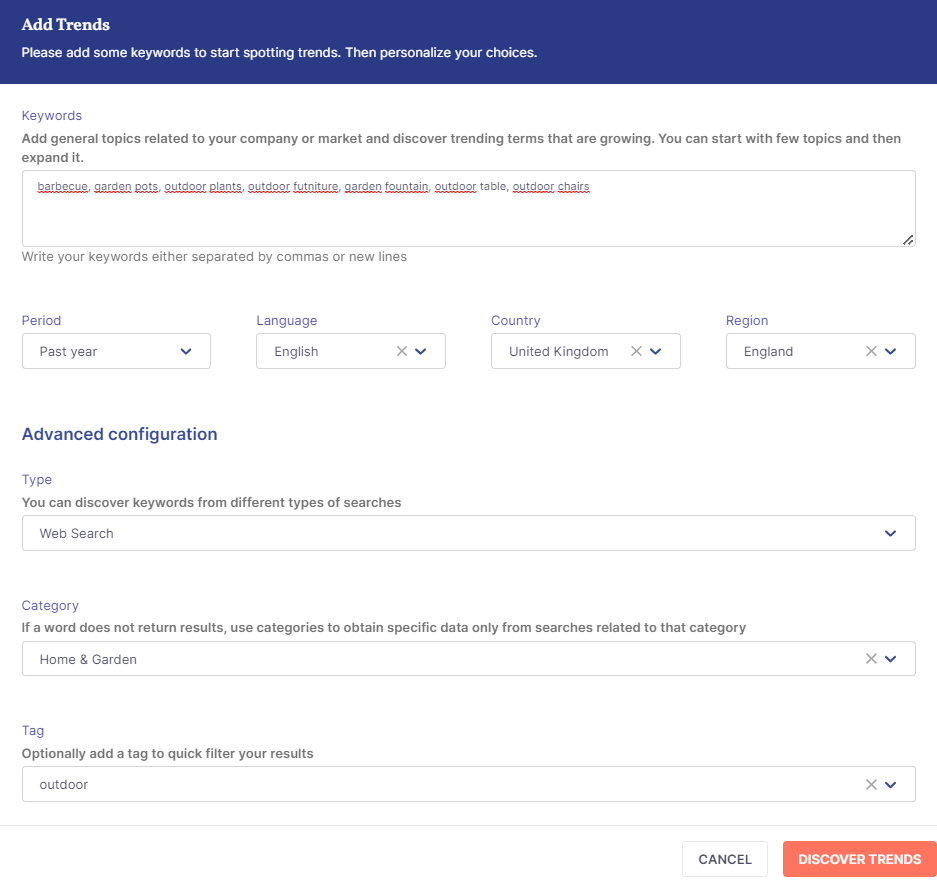 👉 As the keywords you want to monitor belong to the same outdoor product category, you can set them all together and put a tag underneath them in order to filter the content ideas.
Step 2. Discover growing opportunities in your Growing and Top listings.
To consult the results of opportunities or content ideas detected by Keytrends, go to "Growing Keywords" or "Top Keywords".
📈 Growing keywords: query results that are growing now
"Growing keywords" are queries that are growing throughout the chosen period in different peaks and whose growth rate is very high (some of them exceeding 6 figures):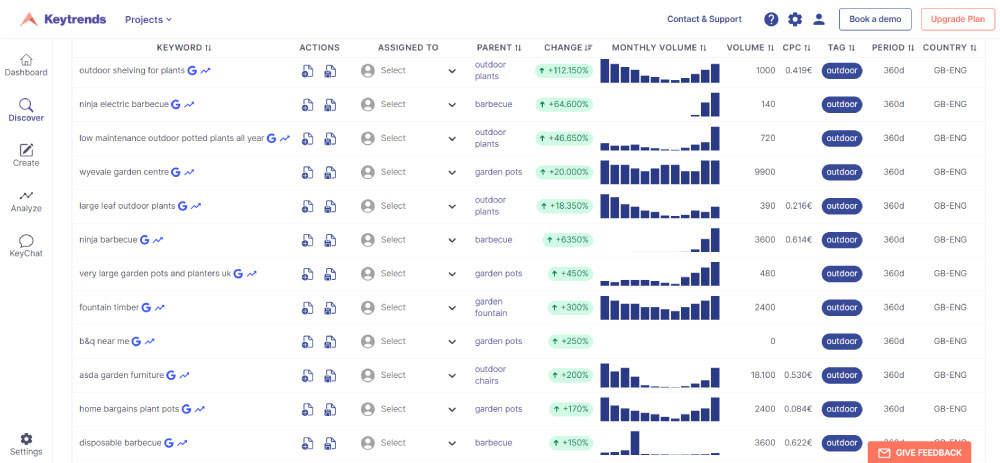 EIn this case, e-commerce discovers types of products that are in demand, and which it has to use to:
🛒
Incorporate new products or highlight them in your product carousels on the homepage
✍️
Create informative content in the blog or to enrich product descriptions
🔝
To publish viral content on social networks, or to define a PPC strategy
Next to each opportunity detected, the e-commerce can review the seasonality of the product in the monthly volume graph and know the percentage of growth in the configured period.
Furthermore, by clicking on the parent keyword you can see the total number of related queries. For example, these are "outdoor plants":
🔝 Top Keywords: the results for the fastest growing topics
In the "Top keywords" we make a selection of the searches that have grown the most and that, although they may have a certain seasonality, the user's interest is constant. They are ideal for:
⧫ Create fixed or evergreen content because it is expected to remain popular over time.
⧫ Optimise an existing information architecture or create a new one.
These are the ones that bring traffic to the pages all year round, but even so, many may show some seasonality. This can be checked in the month-by-month volume graph and by clicking on the parent keyword in this trend graph (e.g. for "garden fountain"):
👉 What to do once you've spotted an opportunity? From here you can either go to the AI Content Assistant to write the content or to create the briefing. You will be able to assign each query to a writer, indicate the day of publication and create the briefing to be saved in the Publishers Panel.
Step 3. Expand your quota of topics to monitor
Depending on the maximum quota of your plan you may need to set up more themes to find more opportunities. If a higher plan gives you more than you will use, tell us how many extra topics you need and you will only pay for this.
To do this go to Upgrade and click on Pay as you go or email us at hello@keytrends.ai 📨

You can also access directly from here ⬇️
Want to see how a real business takes advantage of content opportunities and its results? Read the success story of PcComponentes, the e-commerce that increased its positioning thanks to trends.
Frequently asked questions about Trends Opportunities
If your question does not appear, you can leave it in comments so that we can solve it for you and include it in this list (you can also write to us). Thank you!
➖ Why do I get keywords in the topic results that are not related to my topic?
This is because you have not selected the category of your seed keyword. For example: it is not the same to select "Games" in general as "Board games", because the first category will also include computer games, card games, online games… Whenever possible, specify it in the configuration of your general themes.
➖ Where can I see the topics I have already entered to avoid repeating them?
You will be able to consult the keywords you have entered in My topics. If you have already entered a word, the application will not let you enter it again, unless you define different parameters.
➖ What is the difference between content opportunities and trends?
Topics or content opportunities are queries that are closely related to a specific topic or sector and that users also search for when they are looking for information. They differ from real-time trends in that their demand is long-term and sustained over time. If we cover these opportunities we will be offering users all the information they may need and we will be able to appear in all their searches.
➖ When submitting a keyword, what is the difference between the different types of search?
Depending on the channel selected in the search type, Keytrends will search for popular topics and opportunities there. For example, in "Youtube" or in Google Shopping by selecting "Shopping". This second option is very useful for analysing product demand and planning Google Shopping ads. Anyway, as "Web Search" covers all results and user searches in SERPs and these are almost always extrapolable to the rest of the channels (the user's input channel is usually the search engine, Google).
Keep learning about Keytrends