Detect opportunities in your content with My Search Console Data
Re-optimise your pages with the most potential for improvement and increase your online visibility 75% faster.
Take advantage of your already indexed URLs to make changes and climb positions. We display and sort all your positioning data through filters so you can monitor, analyse and make decisions.
Boost your strategy even more by detecting cannibalisations and save time with the Opportunity Score: we tell you what content you should work on so you save time and gain in results.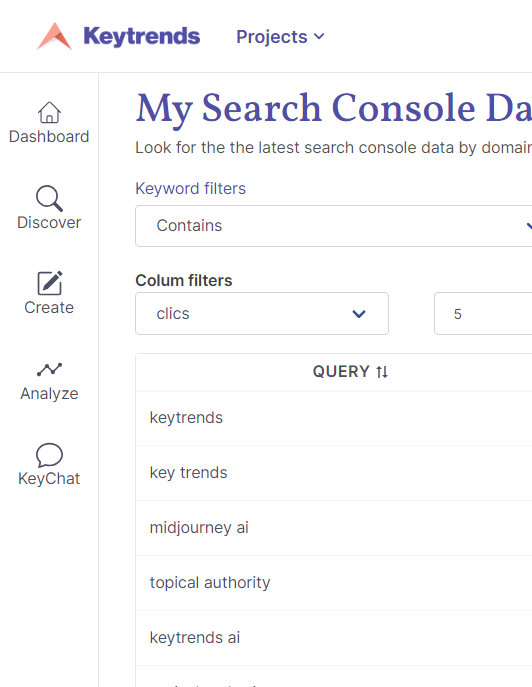 All your content, the keywords you cover and your positioning in one place
No need to go from page to page in Google's tool: find each keyword with its URL and all its data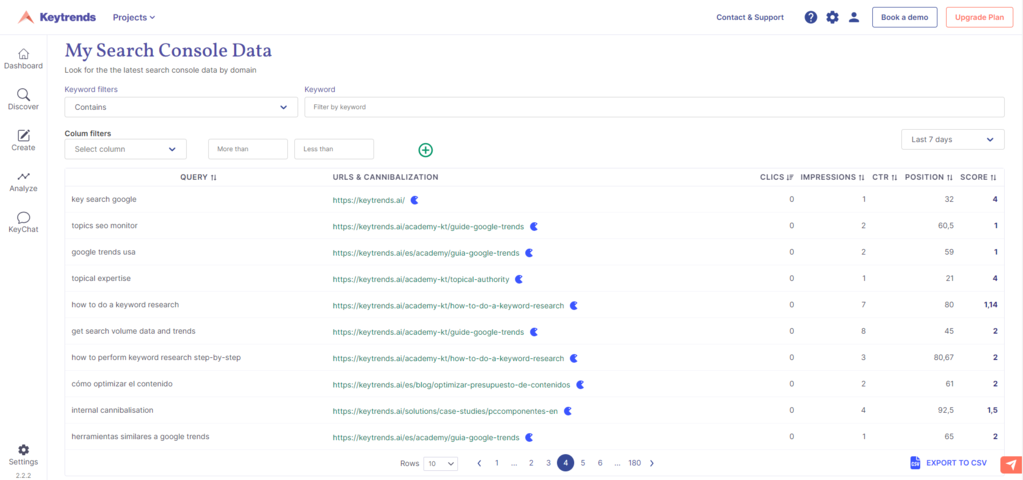 Filter data and keywords
Sort by date, filter by keyword, detect content with a number of clicks or position and more
Check cannibalisation
Enter a URL and we will give you a list of your contents that share a keyword
Let the Score guide you
We score all your pages from 0-10: the higher, the more probability of a better ranking.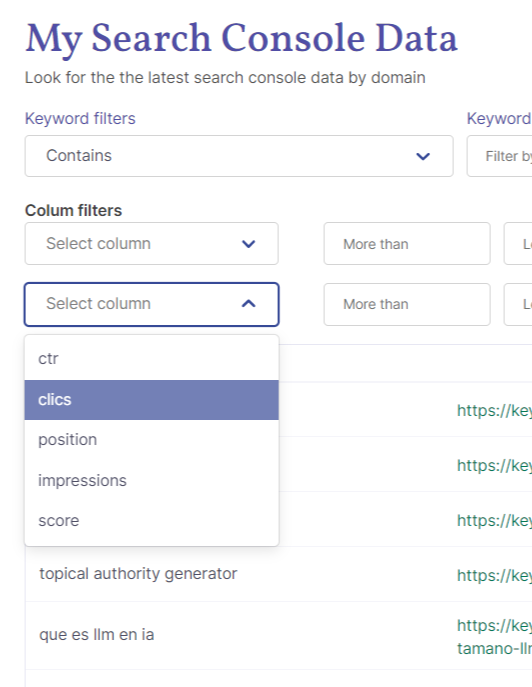 With all the filters you need to analyse your content data
No browser extensions, no scripts, no prompts, no other tools. We enhance the Google tool by adding combinable filters and presenting the data on a single screen:
Filter by positioning data: choose only the pages you are interested in according to their number of clicks, impressions, CTR, position or Score. Get even more specific by defining whether it is higher or lower than another quantity, and combine more than one filter.
Filter by time period: display only content created on a certain date (you can customise it with a limit of 16 months ago).
Filter by keyword: choose which URLs to display based on the keyword they target. You can choose whether they contain it or not, and exact match.
Our Score weights the data for you and tells you where to start
Speed up the work on your content by letting the Opportunity Score do the measuring for you. Based on the indicators of your content and an algorithmic analysis, it gives them a score from 0-10 according to their potential:
The higher the Score, the easier it is to work with and position content
Score too low? Change the focus and SEO optimisation of that page. Look at the keywords to known which ones you should attack.
If you prefer to work in datasheets you can export all the information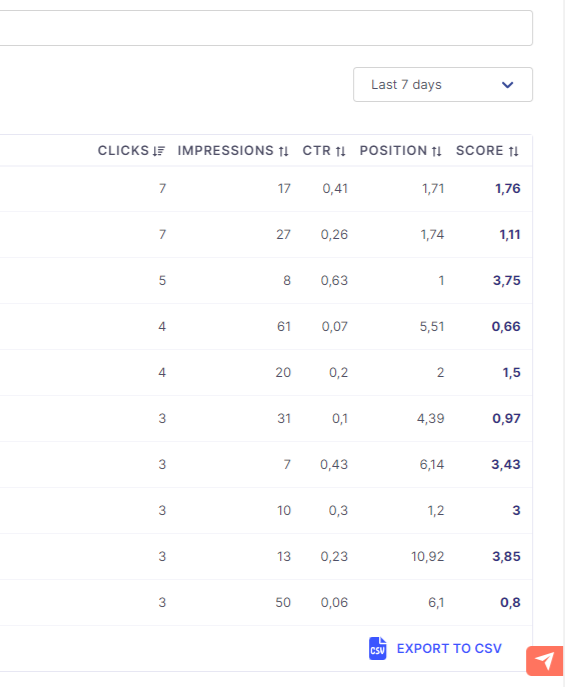 Learn how to squeeze the full potential out of your content with us
Control the cannibalisation of your content in one click
Find out which URLs you have created and positioned for each keyword, observe the ranking data and detect possible cannibalisations – it's just a click away by clicking on the "pacman" icon next to each page!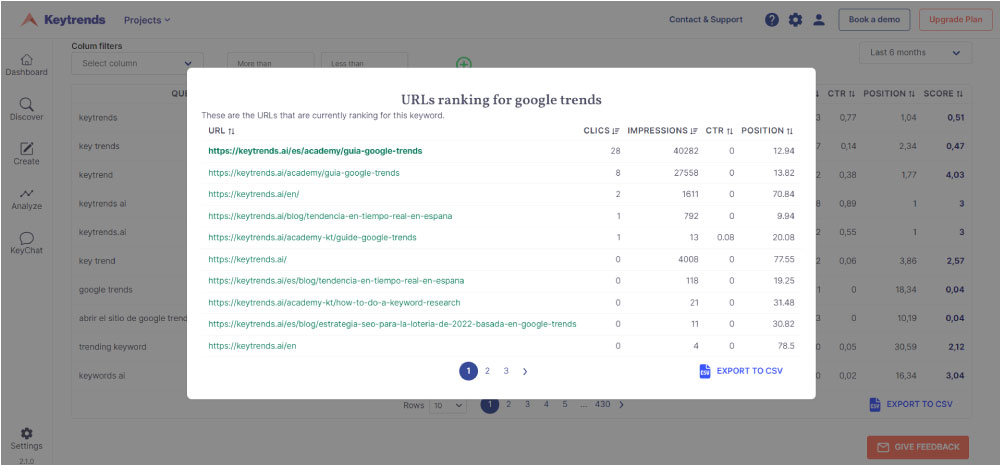 Integrate your Search Console account with Keytrends in just 4 steps
Having all your ranking data available does not require any technical knowledge, you just need to have your Google Search Console account active:
Do you have a Google Search Console account?
Confirm that it is active and that you have told Google what your Sitemap is
Activate Keytrends integration
Look for it in the configuration options, click and accept the connection, it will take 5 seconds!
Wait for data upload
We bring your project data up to 16 months back, and all the URLs of your sitemap
Dive into your data
Use the filters to see concrete data or use the Score to improve your pages