Spanish AI startup KeyTrends.ai raises €350,000 in first round led by 4Founders Capital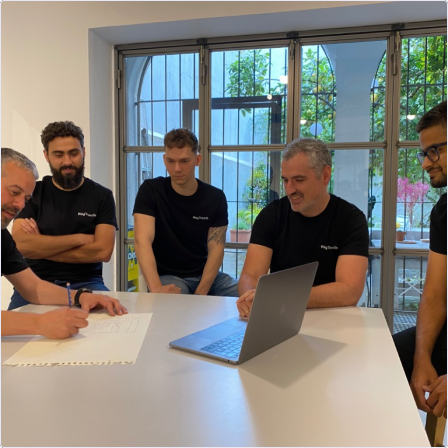 KeyTrends, which allows you to create a content strategy in minutes through AI and using a multitude of search and competitors data, has raised €350,000 to help multiply the turnover of 2022, which exceeded €100,000.
The Canarian company, which took its first steps at the end of 2021, has received funding led by 4Founders Capital and Unitatea funds – Draper B1, Tokavi, Ventia Capital, as well as other private investors and Business Angels.
Las Palmas de Gran Canaria, 15 March 2023 – KeyTrends.ai closes its first round. The platform, which allows to execute a content strategy based on data and with the support of Artificial Intelligence, has raised €350,000 in its first investment round, led by 4Founders Capital and with the participation of Unitatea – Draper B1, Tokavi, Ventia Capital and Business Angels both from the Seedrocket accelerator environment as Javi López, David Tomás and Emilio Nicolás, as well as other private investors including Abraham Yela, Rodrigo Muñoz, Miguel Ángel Díaz and Santos García.
In 2022, the company received co-financing from the Government of the Canary Islands and the European Union through the European Regional Development Fund (ERDF) "Canarias avanza con Europa" through a €200,000 equity loan granted by the Society for the Economic Development of the Canary Islands (Sodecan).
The company will use the capital raised in the round to boost its national expansion strategy and to further improve its platform, integrate new data sources and expand its international business.
The first data-driven generative AI
According to its founders, KeyTrends aims to revolutionise the world of content generation by companies. "All companies need to have a content strategy to improve their digital business and grow their brand and visibility. Having generative AI tools doesn't solve that need. That's why Keytrends.ai goes one step further by helping them define their strategy, assisting in AI content and measuring its impact," says Dani Pinillos, CPO & CMO of KeyTrends.
Currently, the platform has more than 2,000 users who have already discovered trends, created content and increased their visibility, including companies such as PC Componentes, Axel Springel, or Cinfa, which are growing with the platform. "Unlike other similar AI tools that also write automated content, the tool analyses and discovers traffic opportunities, content ideas and trends about what your buyers are looking for. It is different because it creates content based on search and competition data, and because it adds keywords and entities to make optimised content for users and search engines. That's why we say KeyTrends is the first data-driven generative AI," adds Pinillos.
The startup plans to dedicate the capital raised to its national and international expansion
The startup was founded in September 2021 by entrepreneurs Daniel Pinillos, former CEO of FunnelPunk SEO consultancy, Álvaro Reguera, former VC at Elewit and Repsol and José Domingo García, CTO with more than 10 years of experience in development. The company's objective is to revolutionise the world of content generation by companies, making them gain in quality and agility when managing and creating their content, thanks to the fact that with KeyTrends they only need one tool, but above all because they increase their online visibility.
In addition, with KeyTrends, companies are up to date with the latest trends and content opportunities in their sector or their client's sector (and they detect them 10 times faster). They can know at all times what their current content strategy is, what is working for them and what they are missing out on. And above all, they can manage all content and their team of writers in one place, saving up to 90% of time in content generation.
The company is also aiming to exceed €300,000 in turnover and consolidate its national and international expansion in line with its approved business plan for the coming months.