How to check the cannibalisation of your content without extra tools from Keytrends
It is just as important to create content frequently as it is to optimise the strategy, and this includes not repeating topics that can lead to cannibalisation. In this article we are going to guide you both to check for the ones you may already have on your website, and to avoid them during the content creation process. All with a single Keytrends function.
60
Minutes saved in the manual process
75%
More new content published
1
Tool for the entire content process
How to check if your content is being cannibalised in 3 steps
Use case 📝

In this function we are going to use Keytrends as an example. Why? Because on our website we create a lot of content around 3-4 major topics in which we are experts and it is very easy for keywords to be repeated. Luckily, from our own tool we extract ideas and at the same time we check that we haven't already worked on them.
Step 1. Connect your Google Search Console Account
To show you the ranking data you need to determine if cannibalisation is occurring you need to connect your Google Search Console account with Keytrends. It's as easy as logging into Google and clicking the "Connect Search Console" button.
💡 You will know it is not connected because inside My Search Console Data you will see an orange warning at the top of the screen, and because you will not see any data in the queries and URLS table.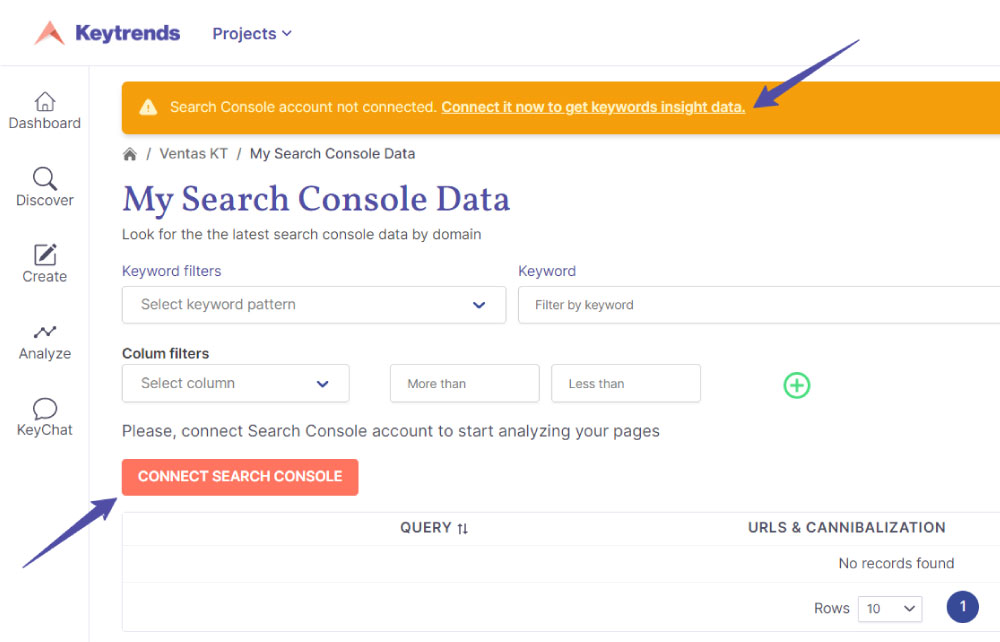 Step 2. Check cannibalisation from My Search Console Data
This is the first way to detect both duplicate content and cannibalisation, and it is by accessing all your keywords and positioned URLS. We have already seen how you can play with the My Search Console Data function in how to detect opportunities in your content, here what we are interested in:
Identify your main keywords: sort your content by clicks to see which ones bring in the most traffic. Then, do it by impressions to identify other keywords with potential. You can do this by clicking on each column.
Click on the icon of the "Pac-man": in our case we choose the keyword "google trends", for which we know that we have created several articles. A window appears with the URLS that share this keyword and the positioning data. It seems that none of them are competing for clicks, so we can rest assured.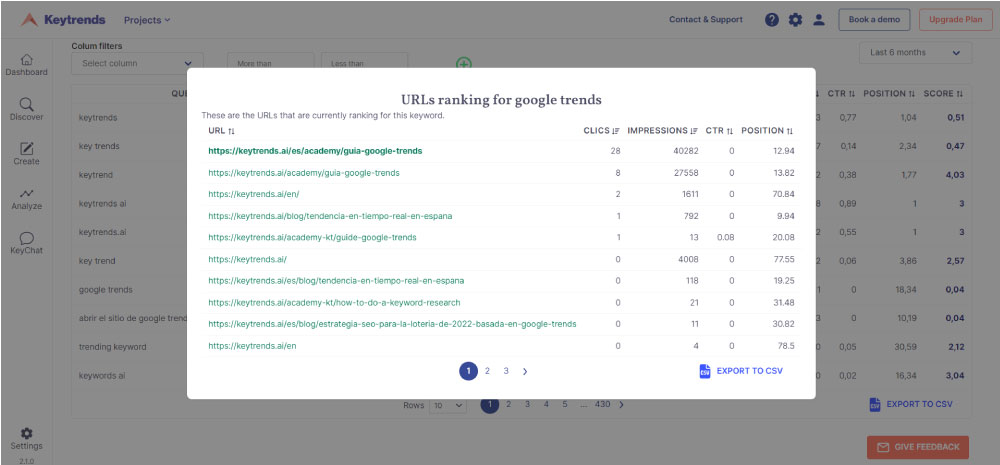 Step 3. Look at what you have already created when you are hunting for drafting ideas.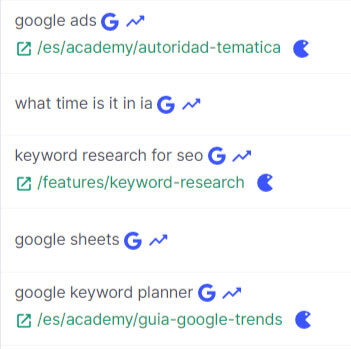 The second way to do this is from the Growing or Top keywords listings in both Trends Opportunities and Realtime Trends. What's better than knowing just when you are choosing a topic, if you have already covered it before?
That's why, next to each topic, you will find the URL where you have already included them, and the icon of the "Pac-Man" so that you can access the cannibalisations window. In this case, we have mentioned "google ads" on several pages but there is no specific content.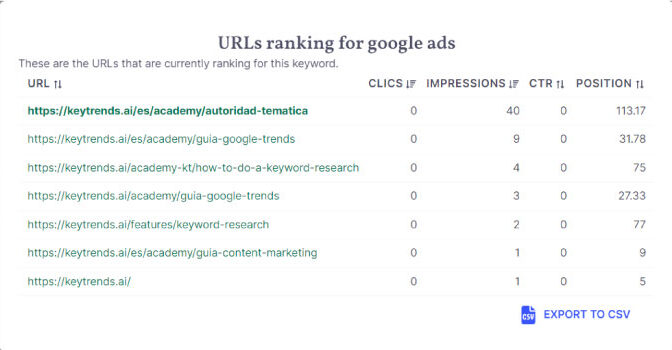 💡When working on your content strategy with Keytrends you can schedule and mark the status of your publications in the Publishers Panel. This is another good way to confirm at a glance what content you have already created.
Add more projects to always create new content
Depending on your Keytrends plan you can work on your content strategy for between 1-20 websites. Your current quota is too low, but a higher plan gives you more than you will use? Tell us how many extra projects you need and you will only pay for this.
To do so, go to Upgrade and click on Pay as you go or send us an e-mail to hello@keytrends.ai. 📨

You can also access the Upgrade directly from here⬇️
Do you prefer to test the feature on one of your projects? When you discover how much time you save on checking your sitemap or Google Search Console, you'll wish you'd known about it sooner!
Keep learning about Keytrends