How to plan and work on your content strategy with your team using Publishers Panel
In this article we will guide you through how to schedule the content ideas you find with Keytrends and plan them with your team. With the Publishers dashboard you keep your content tasks under control and see everything that is done and to do at a glance.
6
Hours saved in content planning
1
Same tool for content management and team communication
90%
Increased performance of tasks
How to manage your content and writers in 3 steps
Use case 📝

An on-demand content writing company manages the work with Keytrends. They have both internal writers and external contributors registered with the company, all supervised by the same manager. The Publishers Panel allows them to keep the tasks up to date without e-mails and delays.
Step 1. Leave the scheduled topics and the assigned drafters
After having found content ideas with Keytrends and approved them with the client, the copywriting company plans them in the Publishers Panel. In short, it is a matter of assigning the topic to a copywriter, giving him or her a few guidelines and setting a delivery date.
In 3 ways to save and schedule a topic for your strategy you can see how to do this from various places in the tool, but your place of control will always be the Publishers Panel. This is where all the planned content will be saved and where you will manage it: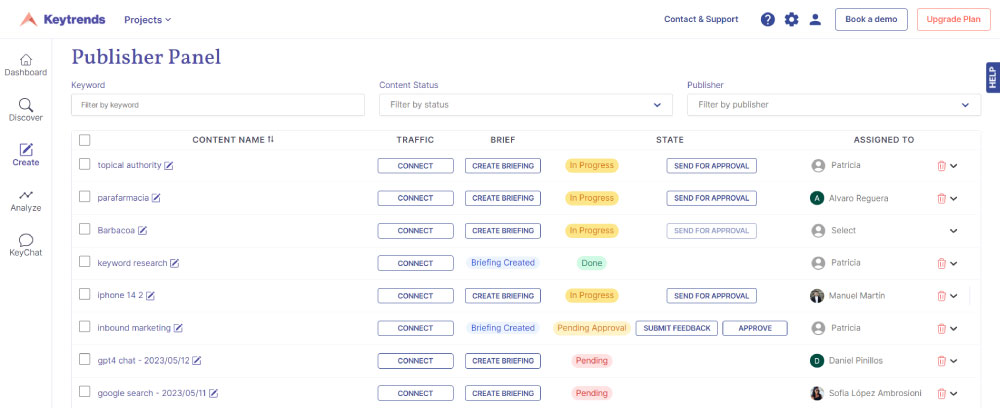 Step 2. Send your feedback or approve a publication when ready
🅰️ If you are a content manager, your writers will receive an email notification that they have been assigned a content task. Once they have worked on it, they will ask for your feedback and you can send them your comments by clicking on "Submit feedback". If everything is OK, you can approve it directly by clicking on "Approve".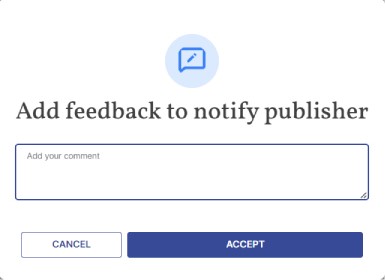 🅱️ If you are a copywriter, you will need to submit written content for approval. Your button will be "Send for approval". Your manager will receive a notice that the work is done, and you will receive a notice when your manager has approved it.
Step 3. After publishing, analyse the traffic including the final URL
When you approve your writers' content you have the option to insert the final URL. This will be used to visualise the traffic that each content receives once it has been published, in the same Publishers Panel. This is useful for the editorial company to assess the quality of the work of its collaborators.
💡If you do not have the address at the time of approval, you can add it later with the "Connect" button. It is in this column that the traffic obtained will then appear. You can better analyse the performance of your content by consulting the ranking data in My Search Console Data, where you can also detect which URLS need to be improved.
Add users and work with your whole team from 1 single tool
Each of our plans includes a maximum number of users that can use the tool. Whether a higher plan is too much for you or you are going to work with a lot of people, tell us how many extra users you need and you will only pay for this.
To do this go to Upgrade and click on Pay as you go or send us an e-mail to hello@keytrends.ai 📨

You can also access directly from here ⬇️
Frequently asked questions about the Publishers Panel
If your question does not appear, you can leave it in comments so that we can solve it for you and include it in this list (you can also write to us). Thank you!
➖ How do I know the status of content planned and assigned to editors?
You will be able to monitor the tasks in the content at all times by looking at the labels in the "State" column: Pending, In Progress, Done, Pending Approval… Each one is shown in a different colour to make it easy and very visual to identify them.
➖ I have a lot of content planned, is there a way to find the content I'm interested in faster?
The Publishers Panel offers three filtering options: by keyword, by status and by writer. You can use all 3 at the same time to further refine your search.
Keep learning about Keytrends